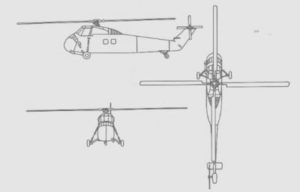 History
The Sikorsky H-34 was built following a request by the US Navy in 1951 to develop a helicopter capable of anti-submarine warfare, the then-existing types being deemed not powerful enough for this. The first prototype, designated by Sikorsky as S-58, made its maiden fl ight on the 8th of March 1954 and was followed by 1821 production aircraft, and several hundred licence-built versions.
Later versions, such as the "Wessex", a license version built by Westland in Great Britain, were equipped with turbines instead of piston engines and offered superior performance. Numerous private S-58s were retrofitted with this engine type and designated S-58Ts. These aircraft are easily distinguishable by their modified forward nose section. Many of these are still in use for various services around the world.
The French Air Force and Navy received 261 H-34s that were heavily used during the Algerian War, offering a better high-altitude performance than the
H-21s. It was also in Algeria that France developed new tactics for the use of armed helicopters. H-34s equipped with machine guns would provide air cover and fire support for transport helicopters delivering troops or cargo. These tactics were copied by the Americans in Vietnam and are still common today. France retired its last H-34s in 1984.
Caracteristics:
| | |
| --- | --- |
| Diametre |  17,07 m |
| Length |  14,25 m |
| Height |  4,36 m |
| Empty weight |  3,5 T |
| Maximum weight |  6,3 T |
| Payload |  2,3 T / 18pax |
| Maximum speed |  200 km/h |
| Range |  450 km |
| Crew | 3 |
| Engine |  1 Wright 1820-84 de 1525 ch |
| Serial Number |  SA 116 |
Our helicopter
We received our H-34, serial number SA116 and license-built in France, in 1987 from the air base in Cognac. It has been restored 20 years ago, but the paint scheme is already fading and further work is now necessary.