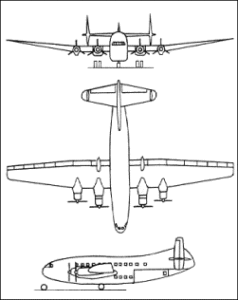 History
The roots of the Breguet 765 Sahara trace reach back to 1936 when a fi rst study for a big land transport aircraft, using the wing of the Breguet 730 flying boat, were considered. After the war, the concept was reworked to respond to a French government call for a large mixed transport/passenger aircraft with a range of at least 2000km.
The first prototype of the Breguet 761 made its maiden flight on the 15th of February 1949 at Villacoublay. Breguet then produced the 761S, 763 and 765, that differ in cabin layout and engine choice. The Breguet 763 Provence was built for Air France. The airline initially opposed the type that finally became a very popular and economic aircraft, mainly used on the Paris-Alger route. The 765 was a transport version for the Air Force, capable of dropping paratroopers and carrying oversize cargo. It remained in service until 1969 when it was replaced by the Transall.
A noteworthy fact about the "Deux-Ponts", as it was known to crews and passengers, is that it was never involved in any fatal accident. The only major incidents in its entire service life were two wheels-up landings, making it one of the safest aircraft ever. It was also the last purely French four-engined aircraft to take to the skies.
Caracteristics
| | |
| --- | --- |
| Wingspan | 45,5 m |
| Length | 29 m |
| Height | 10,15 m |
| Empty weight | 32 t |
| Maximum take off weight | 52 t |
| Payload | 17 t ou 130 pax |
| Speed | 370 km/h |
| Range | 4 000 km |
| Crew | 5 |
| Engine | 4 Pratt & Withney R-2800 CB16 |
| Serial number | 504 |
The salvage of the plane
The story of the salvage is in this book written by Daniel HARTMANN
Visit of the aircraft
The airplane can be visited during our special event the Week End aux Ailes and the Visites Cockpit
While waiting to be able to visit her "for real", you can make a virtual tour thanks to Visit Digital.