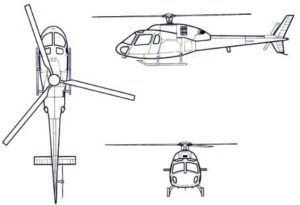 History
The Ecureuil-series was conceived as a replacement for the ageing Alouette II and III. The first prototype of the single-engined AS350 made its maiden flight in 1974. However, many customers preferred the security and enhanced performance of a twin engined helicopter, so the AS355 Ecureuil 2 was developed. The first helicopter taking to the skies on the 28th of September 1979.
The 5000th aircraft of the Ecureuil series was delivered in 2010, making it the most successful European helicopter ever built. It is used all over the world and enjoys a particularly high popularity in the United States of America.
For the construction of the Ecureuil, Aérospatiale used for the fi rst time large amounts of composite materials and glass fi bres instead of a classical aluminium structure, for example for the rotor blades and the rotor head. This allowed to signifi cantly reduce the number of parts, as well as vibrations and noise. The helicopter thus also became cheap to produce and easy to maintain, significantly contributing to its economic success.
Caracteristics
| | |
| --- | --- |
| Diameter |  10,7 m |
| Length |  10,9 m |
| Height |  3,15 m |
| Empty weight |  1 230 kg |
| Maximum take off weight |  2 100 kg |
| Palyload |  5 pax |
| Speed |  240 km/h |
| Range |  850 km |
| Crew | 1 |
| Engine |  2 Allison 250-C20F |
| Serial number | 5001 |
Our aircraft

The displayed aircraft is the first twin-engined production aircraft. It first flew on the 11th of March, 1980, and was retained by Aérospatiale for various trials. It also spent some time at the CEAT in Balma for lightning strike tests, after which it was given to a technical school in the Toulouse region before joining our collection.
Some photos