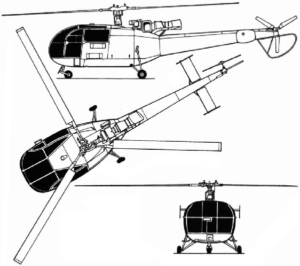 History
The prototype of the Alouette II first took to the skies on the 12th of March 1955. A simple, cheap to produce and robust aircraft, it had exceptional
performances and rapidly took over several world records for range and especially altitude of helicopters. This was made possible by the use of a then new gas turbine engine that allowed high performance at a low engine weight.
In 1961, a new version with the more powerfull Astazou II-turbine (390 kW) was introduced, improving the speed and payload of the helicopter. A navalised version, used by the French Navy from 1955 to 1997, was developed by replacing the skids with wheels (and, in some cases, floats; these, however, proved impractical).
Used for liaison duties, training and light transport or transport of up to 4 passengers (plus the pilot), the Alouette was another very popular French helicopter design, with some 1300 aircraft built and used in by the armies or air forces of 46 countries.
A derivative, of the Alouette II, the SA315 Lama which fi rst fl ew in 1969, was developed for use by the Indian Air Force in the Himalaya and holds the absolute altitude record for helicopters (12.442m) unbeaten for 40 years!
The French military replaced its Alouette II with Ecureuil helicopters. Nevertheless, a great number of Alouette IIs remain in service with civil and military operators around the world.
Caracteristics
| | |
| --- | --- |
| Diameter | 11,5 m |
| Length | 10 m |
| Height | 3,1 m |
| Empty weight | 1,2 t |
| Maximum take off weight | 2,2 t |
| Payload | 6 passagers or 750 kg |
| Speed | 185 km/h |
| Range | 540 km |
| Crew | 1 |
| Engine | 1 Turbomeca Artouste IIIB |
| Serial number | 1655 |
Our aircraft

Our Alouette III had been used for years in Perpignan to provide spare parts. After receiving the helicopter as a donation, the upcoming years will see the main missing parts being refi tted while the airframe is restored.