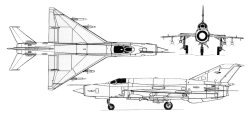 History
Just as the United States and its Western Allies, the USSR carefully analysed the lessons of the Korean War and started the development of a next generation jet fighter in the mid-1950s. Several configurations were considered and tested, finally leading to the MiG-21, the first prototype of which flew in 1958.
30 different versions of the MiG-21 were developed, including more and more equipment. This led to increasingly bad flight characteristics, as the aircraft became heavier without changes to the wing area. In order to maintain controllability at slow flight, the aircraft received "blown ailerons": pressurised bleed air is taken from the jet engine and blown over part of the wings, thereby reducing the risk of accidents due to a loss of control.
The MiG-21 became the standard fighter of the USSR and its allies, with more than 12,000 units produced. It was used by the air forces of 49 countries and is still widely used in the Third World.
Caracteristics
| | |
| --- | --- |
| Wingspan |  7,15 m |
| Length |  14,7 m |
| Height |  4,12 m |
| Empty weight |  5,5 T |
| Maximum take off weight |  9,1 T |
| Payload |  1,2 T |
| Speed |  Mach 2 |
| Range |  650 km |
| Crew | 1 |
| Engine |  1 Tumansky R11F2S300 |
| No Série |  770 et 22+86 |
Our aircraft

Our first MiG-21 is a MiG-21 PFM, equipped with an improved radar in the nose cone. It is an ex-German Democratic Republic air force aircraft coded 770. It was given to us in 1993 by a museum in Appen, Germany, and restored in the early 2000s in its original colour scheme.
Our second MiG-21 is a MiG-21M. Also an ex-East- German air force aircraft, it was coded 22+86 after the reunifi cation of Germany. It was transported to our collection in an Airbus Beluga several years after the fi rst MiG-21.