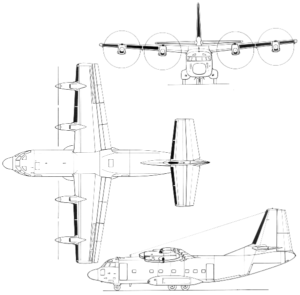 History: 
In the mid-1950s, Breguet Aviation began studying a blown-wings system where lift would be increased at slow speeds thanks to the propellers'
airfl ow, effectively creating Short Take-Off and Landing (STOL) aircraft. A fl ying testbed was built, fitted with triple-slotted fl aps extending up to 97° and powered by four, 400shp Turbomeca Turmo II turbines, driving 4-meter Ratier propellers.
At the same time, a similar aircraft was built in Villacoublay for fl ight test purposes. Named Br.940 «Integral», the plane fi rst fl ew on May 21st, 1958.
For increased safety, all four propellers were driven by a common shaft. In case of an engine failure, all propellers would thus keep spinning. The Br.940 made a strong first impression in the 1959 Paris Airshow, where its impressive STOL performance was showcased.
In early 1960, Breguet received an order for a prototype to carry 47 passengers or a 7-tonne freight payload. The to-be Br.941 was built in
Toulouse-Colomiers. Its maiden flight took place on June 1st, 1961. This aircraft's outstanding performance resulted in a cooperation agreement being signed with McDonnell Aircraft. In June 1964, the rebranded McDonnell 188 ran an US tour to convince armed forces how useful such an aircraft
would be. Near the end of this tour, the plane was heavily damaged after a hard landing, grounding it for 8 months. During this time, McDonnell engineers had plenty of time to study it in detail…
Caracteristics
| | |
| --- | --- |
| Wingspan |  23,4 m |
| Length |  23,75 m |
| Height |  9,65 m |
| Empty weight |  13,5 t |
| Maximum take off weight |  26,5 t |
| Payload |  6,15 t |
| Speed |  450 km/h |
| Range |  1 050 km |
| Crew | 3 |
| Engine |  4 Turbomeca Turmo III-D6 (1500 Hp) |
| Serial number | 3 |
Our aircraft

We aircraft is Breguet 941S nr.3. After its military carreer, it was showcased in a theme park in Ardèche, before joining our collection in early 2015.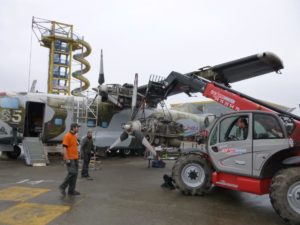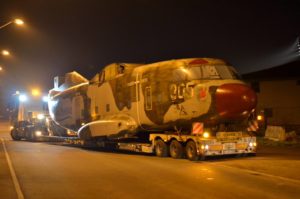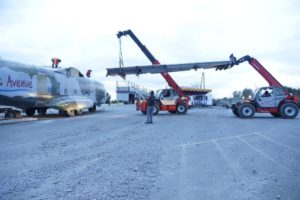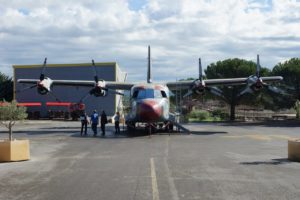 Visit of the aircraft

The airplan can be visited during our special events: the Visites Cockpit and theWeek End aux Ailes.
While waiting to be able to visit her "for real", you can make a virtual tour thanks to Visit Digital.